These are the Harry Potter Wands that are still available in the original Ollivander's wand boxes…
One of my most asked questions is 'which wand should I get?'
So I thought I would review all the wands that are available in the original Ollivander's boxes…
As these are the wands that people usually start with, by the end, hopefully you'll have your answer!..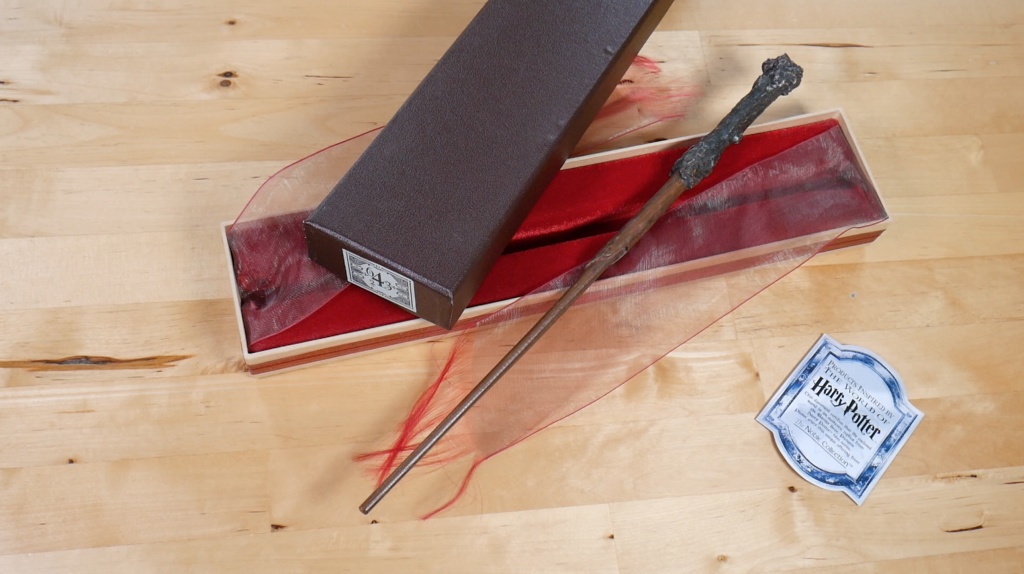 So let's begin with the first wand, which is Harry Potter's wand and this is my very first wand that I purchased…
The story is all about Harry, so I thought I should get Harry Potter's wand…
It has this interesting like bark type handle, that you can see is a little bit worn because I've handled quite frequently…
Swishing it around and like I said before, you know, graze the end of the wand on like walls…
I do recommend being careful with these wands, they are display only, so if you mishandle them, they can damage…
I've dropped wands before and they've cracked and you basically have to buy a new one, if you can't really glue it back together…
It has red velvet on the inside and this lovely iridescent ribbon that come with certificates of authenticity as well (so that's the benefit of getting these…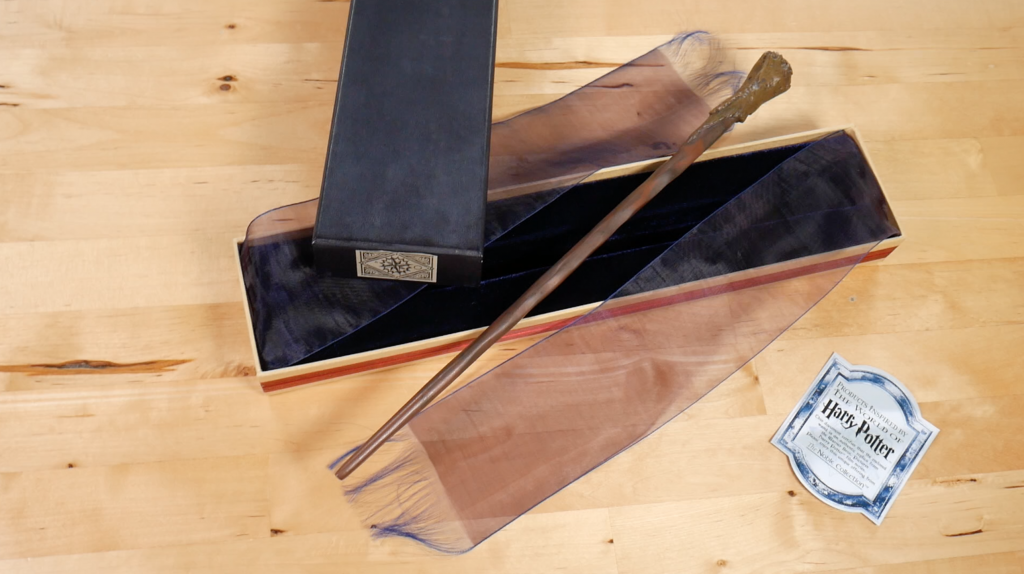 Next is Ron Weasley's wand, comes in a navy box with a navy velvet and also a really cool, navy ribbon
Again with certificate of authenticity – now Ron's wand is quite similar to Harry's really…
It's got like a bark handle, but much lower down, but does have this kind of portion that comes out of it
The rest of it almost looks like finger grips that I've slightly worn down…
Tis is Ron's second wand that he gets, so replacing the wand that he broke in Chamber of Secrets…
Still an interesting wand but doesn't have like major distinguishing factors – unlike Hermione's wand, which is next…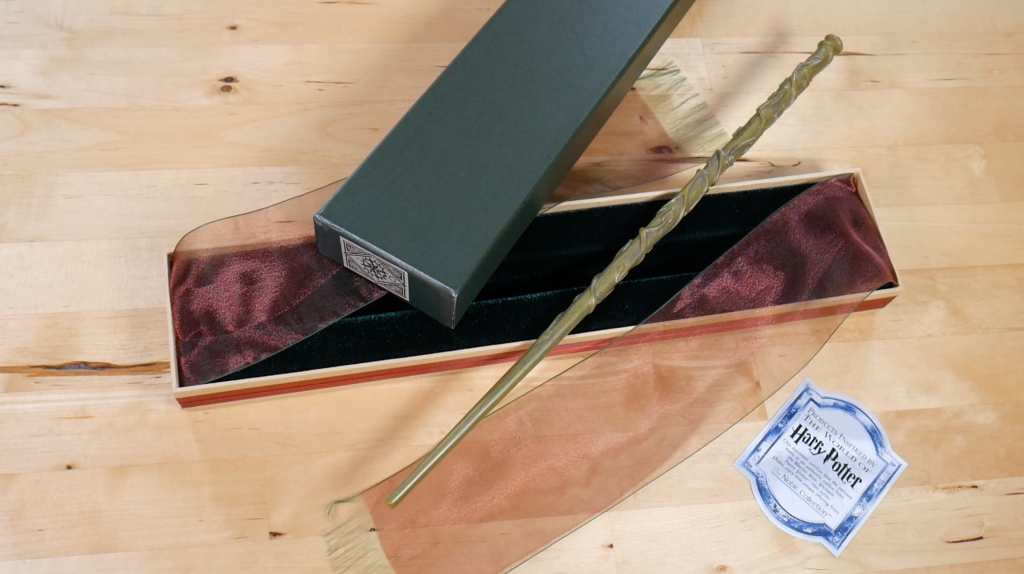 Hermione's wand comes in almost like an army green style box and has an iridescent ribbon, which is between red and green…
For some reason, my wand is a little bit different to others that I've seen – mine is 2004…
So I think they may be a little bit darker now, but mine is quite like a light green it seems
The reason I like Hermione's wand, is because it has this vine pattern that just goes round and round and round…
I'd not seen such intricate designs like this before…
I did purchase like the golden trio's wands quite soon, like after Harry's wand, so I did have them all together…
I thought well I should collect their wands because they're the main characters, so that's the reason why I went for those wands…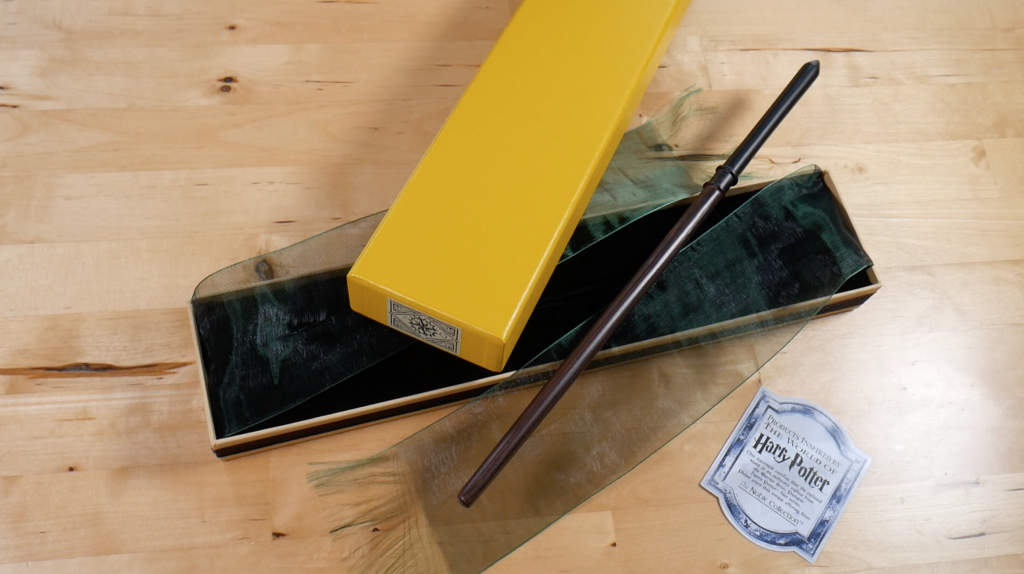 The last student of the Harry Potter wands that come in the Ollivander's boxes – is Draco Malfoy…
Draco Malfoy's wand comes in a yellow box which I would assume that it would come in a green box…
It's quite a simple wand it is rounded on the edge and it does have this gradation/ombre effect to the wand
The handle is very black and then goes to a lighter brown…
Because of the importance of this wand in the story and I won't ruin it for anyone that hasn't read the books or seen the films, but it is a very important wand and that's the reason why I got that wand…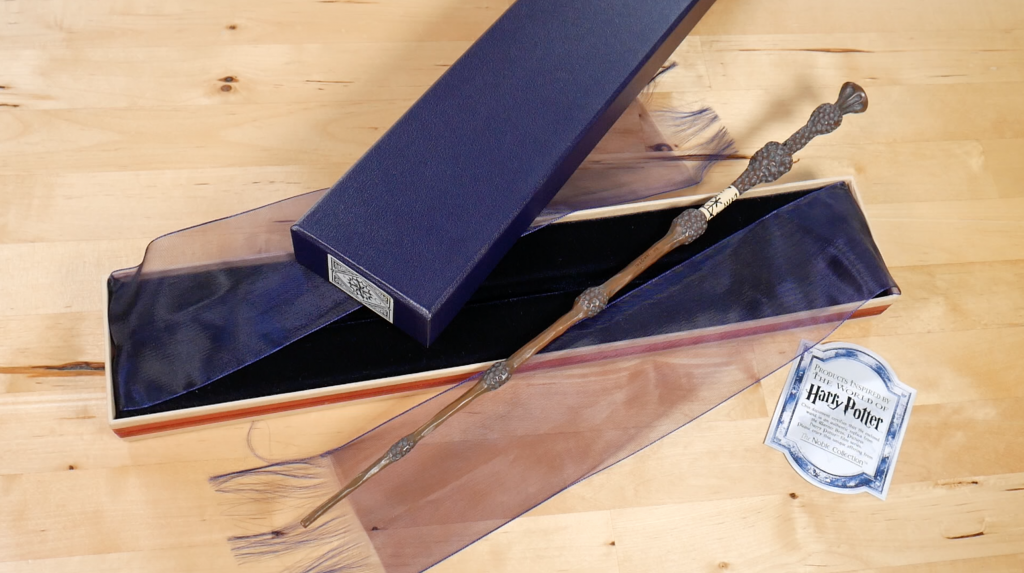 Moving on to the final four wands that are part of this one, I would say next I would have to look at is Dumbledore's wand…
We know that this is the Elder Wand, obviously in the story, but in the beginning, this was listed as Dumbledore's wand…
Comes in a beautiful navy box and comes with a brilliantly bright ribbon, the Elder Wand is a very important wand…
We know it is a very powerful wand which is another reason why I decided to get this wand…
It has these cool like nodules that go down, that taper down to quite a fine point…
It's very long, very thin wand as well and I would say that it's quite delicate…
So again with these wands you've got to be really careful when handling them, because they are designed to be display only…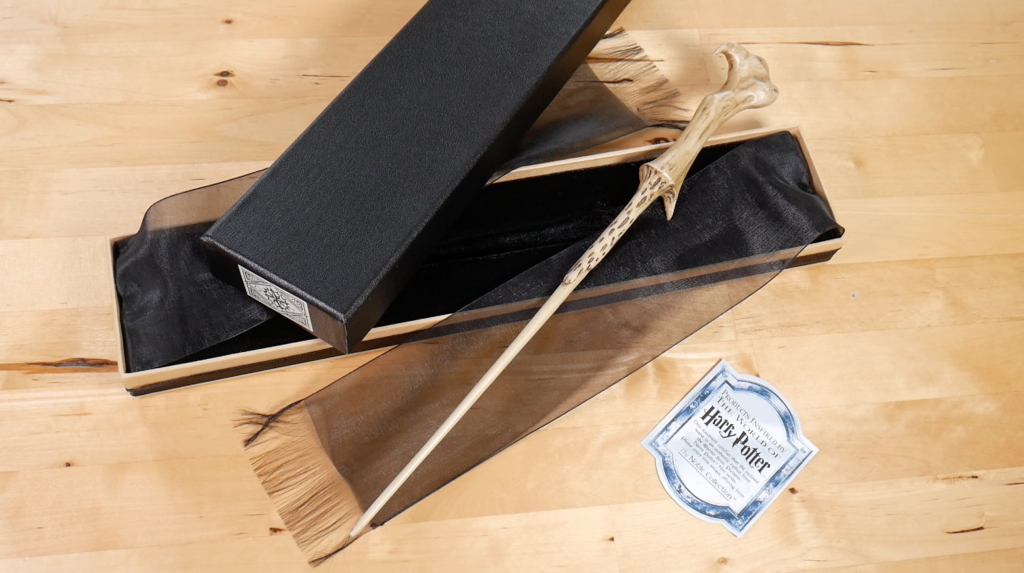 Now that we've done Dumbledore's wand, let's move on to the opposite character, which is Voldemort…
As imagined, Voldemort's wand does come in a black wand box…
I love how evil it looks – it looks like it's carved out of bone…
It has a bone-like quality and this kind of like almost bird-like hook at the end, which also tapers down to quite a sharp point
Again very delicate because the thinness of this wand, but isn't it so cool?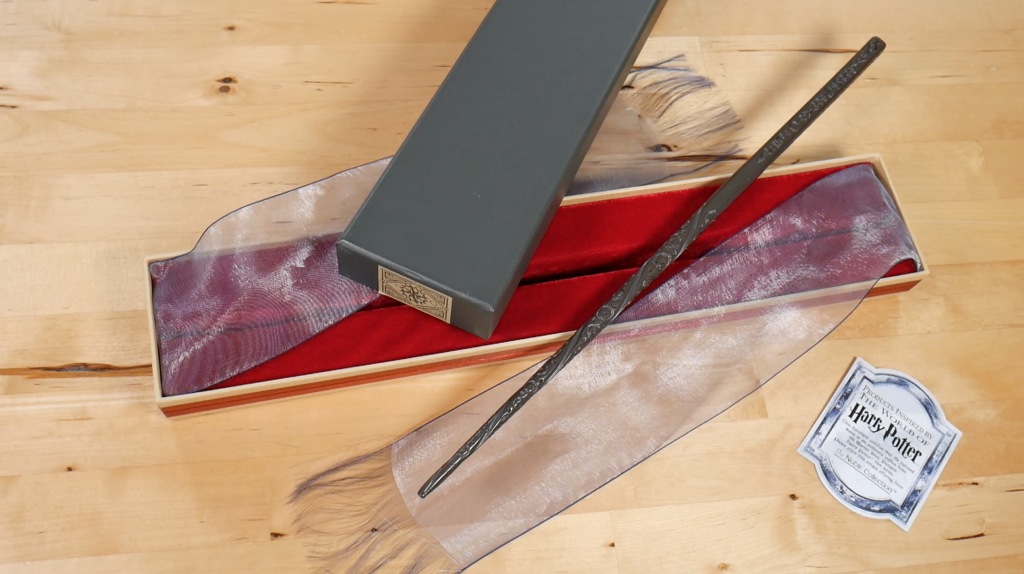 Sirius Black comes in an army type green, similar to that of Hermione's but a little bit lighter
It has a lovely red velvet on the inside and this soft blue ribbon
I would say that Sirius Black's wand is very intricate indeed…
It has these like runes etched into the sides of them, which are very intricate and then the rest of it has a swirl and circles on
I mean, my goodness, what a complex wand to design…
It is also quite light considering that, but then does have a good weight to it – so I do like this but it is all one colour
I had to get this wand because it was actually the final wand that I got as part of all these Ollivander style boxes…
I'll show you the wand that I got just before this one as well…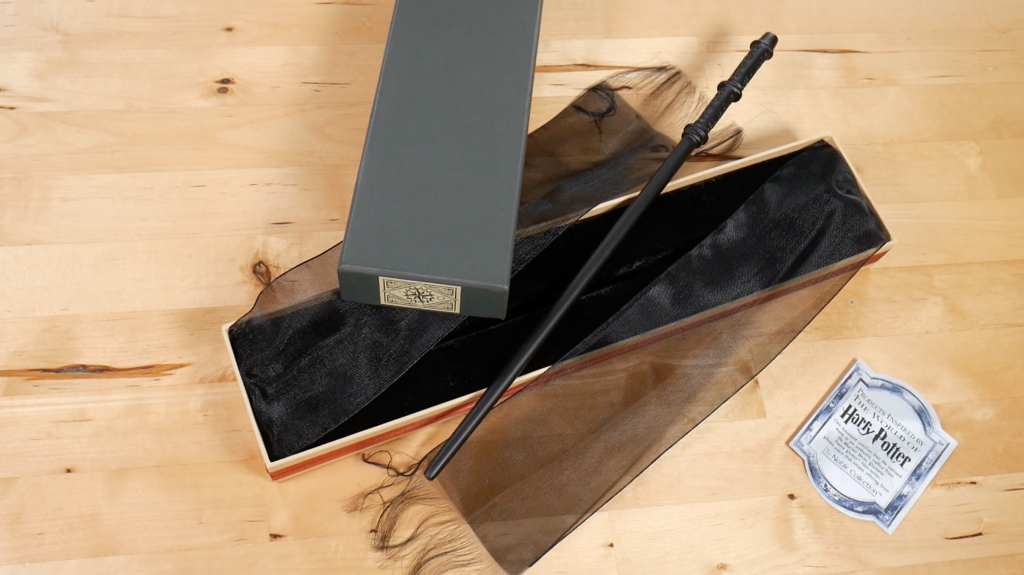 Now love him or hate him, we can all agree that Snape is a very interesting character indeed…
Snape's wand is pretty simple…for the majority of the wand, except for the handle, which have these very intricate designs on…
To me they look like almost Chinese or Japanese or some sort of design like that, but I believe they could also be like Celtic or Celtic, I'm not sure how to say it…
I'm sure there was an interview of Alan Rickman saying something like that…
So if you've asked yourself 'which wand should I get?' – the answer is…
Whichever you like the most!..
Wands that I like and suggest, will be very different to the wands that you like and will get…
Wands are very subjective…
And I don't want to recommend a wand that then you go for and then you've spent that money (because they're not cheap)…
And then you're not happy with your choice
So use it as the magic of like, the wand choosing the wizard…
When you see the wands in front of you or if you're looking online, which wand calls out to you, then go for that wand!
That's how I've chosen them and I've been very happy with my purchases…
If you're gonna be building up a collection then remember it is gradual, because you can't buy them all on one go, it's just too expensive, it's not realistic…
So if you're going to be building up a wand collection, go with it gradually and remember you don't have to buy lots of merchandise to be a Harry Potter fan…
Ask for them for birthdays, Christmas presents or for any other holiday that you're able to…
Family or friends are able to purchase for you, it's a good way, it means there's always a gift idea for them
So go for the wands that you like the most, that is the answer…
So these are the Harry Potter Wands that come in the original style Ollivander's boxes
Leave me a comment in the section below, which of these is your favourite? I'll be really interested to know!
Obviously I went for all of them, so they're all my favourite…
And with that remember, the wizarding world is just one spell away